Here you will find out about the history of bikes, how to look after your bike and what you can do to stay safe while you are riding.
Check out the fact sheets listed in the right-hand column.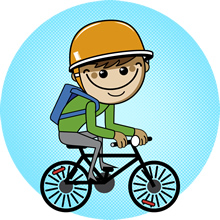 Let's ride safely
Do you know how to maintain and care for you bike? This sheet has a lot of important information to make sure you're always ready to ride.
Ride right – bike safety
Bike riding is fun, but it has a serious safety side too. Read this sheet to find out how to stay safe while riding.
Bikes – an interesting history
Have you ever wondered what the first bike looked like? Find out all about the interesting history of bikes here.
Fascinating facts about bikes
Some fascinating facts about bikes that you might not know.