Christmas is an exciting time of the year. The weather is warmer, the shops are filled with sparkly decorations and you get to spend time with friends and family.
Below you will find lots of information about Christmas.
A printable PDF of the information on this page is available in the right-hand column.
How did Christmas begin?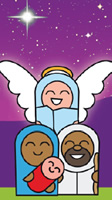 Christmas is a Christian holiday that celebrates the birth of Jesus Christ over 2000 years ago. You might know the story of Mary (who was pregnant with Jesus) and Joseph who arrived in Bethlehem to find that there was nowhere for them to stay. A kind inn keeper gave them shelter in the stable at the back of his inn. This is where Jesus was born.
Lots of people came to visit Jesus and brought him gifts which is why today, we give gifts to friends and family on his birthday. It is also thought that a bright star shone above the stable – this is why we put a star on the top of Christmas trees.
What do we do at Christmas?
Give gifts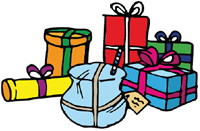 Giving and receiving gifts is probably the most popular Christmas tradition. This represents the 'spirit of giving' for which Christmas is known. Sometimes families choose to give gifts to people less fortunate who may not have anything at Christmas. Have you ever thought about doing that?
Share food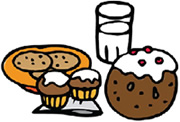 Do you share a meal with your loved ones at Christmas? Many families spend Christmas day with their whole family (grandparents, aunts, uncles or cousins) and share food.
Traditional Christmas food includes cooked turkey or ham, roasted vegetables and Christmas pudding, but this happened in countries where it is winter in December.
December is summer in Australia and Christmas day can be hot, so many people have a BBQ, seafood, salad and other great summer foods.
There are also other treats to enjoy at Christmas, such as mince pies, candy canes and marshmallow-filled chocolate Santas.
Decorations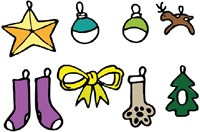 Many people decorate their house at Christmas time with things like tinsel, ornaments and maybe even lights. Some people even decorate their whole front yard with lights that people can enjoy as they walk past.
You will also see lots of decorations in shops and sometimes on the streets in busy areas. Do you put decorations up at your house?
Singing carols
Christmas songs are a popular way to celebrate Christmas. There are so many to choose from. Have you heard of Silent Night or Jingle Bells? Many of the most popular carols sing about a winter Christmas, but there are some great Australian carols too.
Christmas fast facts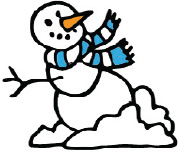 Did you know that the song Jingle Bells was actually a song to celebrate the American Thanksgiving holiday? Now we sing it at Christmas.
Until 1939, Rudolph (the red-nosed reindeer) was known as Rollo.
Father Christmas has many different names around the world. He can be called Santa, Saint Nicholas, Kris Kringle and even Grandfather Frost.
Many places around the world celebrate Christmas with a pageant through the city. The pageant usually has lots of floats, music and people dressed up as Christmas characters. Have you ever been to a pageant?
One of the biggest Christmas trees ever was a floating tree in Rio de Janeiro. It was about 85 metres tall and floated in the Rodrigo de Freitas Lagoon.